Today I'm linking up my armchair makeover to
Suzy's House Par-tay
! There are always lots of new and fun projects being added each week at Saved By Suzy, so check it out if you have a chance and add any projects you might have - the more the merrier!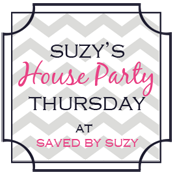 Suzy
also was kind enough to nominate me for The Versatile Blogger which I'm still so flattered and honored by (and since I'm sort of a modest person this is somewhat difficult for me to post about myself but I'll get over it). Suzy and I started blogging around the same time and we've been blog friends ever since. She's one of those people you wish you lived closer to so you can talk about all of this project, furniture, and design stuff in person - not to mention families, kids, all that stuff too.
With this Versatile Blogger nod, I have to:
- Thank the blogger who nominated me and link back to their blog (easy!)
- Tell you the readers 7 things about myself (difficult! another tough one for me but I can do it)
- Pass this along to favorite recently discovered blogs (easy! apologies in advance if you've already gotten this)
1. I have my bachelors degree in elementary education but never pursued elementary ed - and now I work in financial services (how'd that happen?!)
2. Neither my husband nor I were supposed to be at the event we were at when we met for the first time (follow that? I didn't want to go out at all that night but a friend got me to go out, and my husband was supposed to be in a golf tournament but it got rained out)
3. I lived in Philadelphia for a year when I was 25 - a great little neighborhood called Fitler Square which is west of Rittenhouse Square.
4. I played volleyball and soccer in high school.
5. I love Motown music and Stevie Wonder.
6. I love french fries and wish I didn't.
7. I've never been to Europe but would love to go someday.

I'd like to pass the Versatile Blogger along to...

Ispirato Design - I recently discovered Ispirato Design and so happy I did. Check out what Michelle is planning on doing with her dining room.

A Home in the Making - Jenn is always doing something really creative and fantastic. Check out the chairs she just gave new life to and all of the work that Jenn and her husband have done on their home. I'm really excited to see the progress on their back porch.

Happy Thursday!!!