Today starts the first post in my new guest series, Tools of the Trade, where fellow bloggers will share their background, tips, tricks, and general thoughts on decorating and design. I'm excited to get the series rolling, and really excited about my first guest that I've invited over today, Lori from
Lori May Interiors
.
Lori and I have traded stories about artwork, our kids, our love of design books, and of course decorating. Lori has been such a supportive blogger and friend to me and I'm very grateful to have her here today.
Not only does Lori have a well executed blog that you should definitely take some time to visit, but she's got some really beautiful projects under her belt as well. She recently completed an install of a gorgeous
Nashville loft
that is a must see for the before and after photos. Here is a preview of the magic that Lori created for the space...
Photo courtesy of Lori May Interiors
And then after we drooled over Lori's photos of this project, she even did a post with some
background and tips related to the project
which is just genius to me. I love a great reveal, but I also love to learn about the reason behind design decisions and how the project went from Point A to Point B and so on.
So without further delay, I'll let Lori jump in here...

Hi all, I'm so glad to be here today participating in Holly's "Tools of the Trade" series. Let me start by saying that you hear bloggers say all the time that one of the best things about blogging is the friendships that you make along the way. For those of you who don't blog this may sound strange, but it's so true. And, no one is more supportive than Holly. She is always there commenting and retweeting. If she didn't come by, I'd probably contact her, because I'd be worried that something had happened to her! It means the world to me to see her name pop up in my inbox each time I post. We've never met, but I consider her a true friend in so many ways. Her support is unwavering. Thank you Holly. Now on to my tools of the trade!
I am a self taught designer and I'll be perfectly honest in saying that I learn something new each time I complete a project. But, today I'm sharing my go to tips/tools that I always use, time and time again. They always serve me well.
1) I ask my prospective clients to prepare tear sheets that they love before we meet for the first time.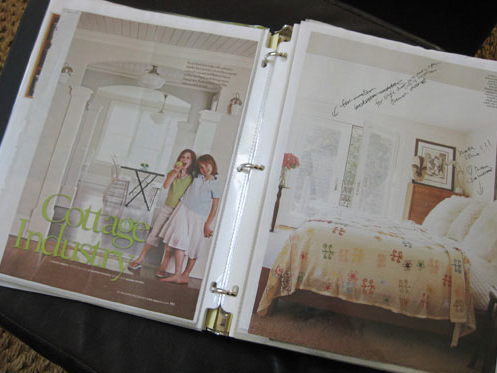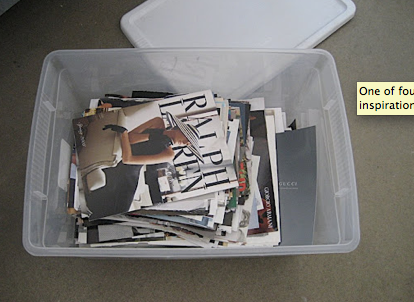 It makes no difference to me if they're in a binder or just thrown into a plastic bin. The idea is to see what they love. It also doesn't need to be all home related. It could be their favorite outfit, piece of artwork or vacation spot. It all gives me an insight into their style.
2) I also bring a binder of inspirational tear sheets to our first meeting. It's a portfolio of different design styles and helps me to determine my client's likes and dislikes. People know what they like when they see it, but sometimes it's hard for them to put it into words. My binder allows me to show them many different looks and get their reaction. It's also just as important to find out what they don't like as what they do. Here are a few examples of different styles.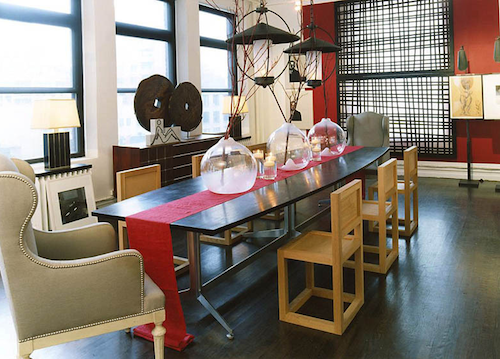 Which one is your favorite? Here's a hint, most people never choose just one. But, the key is to find the one that makes you feel a certain way. If that's how you want to feel in your space, then you've got it.
3) Once my client and I are on the same page, I put together the design plan. I'd love to say that when I make a presentation, my client loves it right away, but that's not always the case. So, what's a designer to do? I always have a plan B. Here's a great example.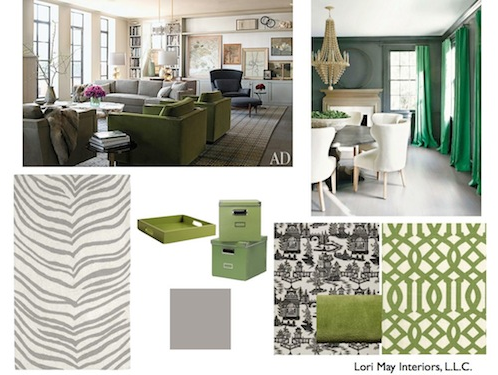 This is the first design plan that I presented to my client for her office space. She liked it, but she didn't love it.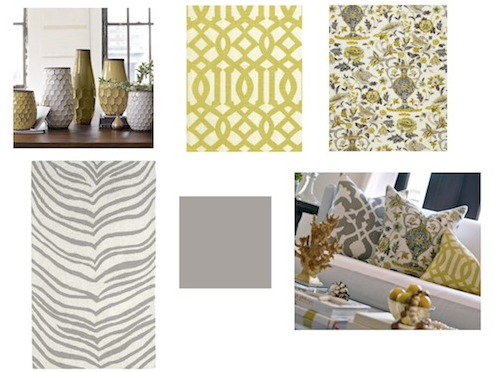 Here's my plan B. The paint color and the fabric remained the same, but the color palette changed. My client felt uneasy with the kelly green that I used in my first plan, but when I presented the lighter citron palette with a floral pattern, she was thrilled. Had I not been prepared with a plan B, I might have left there that day without a new project. Being prepared made all the difference. You can see the office reveal
here
.
I hope my "tools of the trade" have helped you with your own home or business. Flexibility and preparation is key. Take your time, find what you love and always have a plan B.
Thanks so much for having me, Holly!
Thank you, Lori, for being my first guest here for the series. Your Plan B post is one of my favorite posts and really was a great lesson on being prepped for a client meeting. I also love that you included a small portfolio for us to look at to determine which design brought out a feeling if we were your client - I was drawn to that pretty open shelved kitchen.
This week also marks Lori's one year of blogging milestone, so take a few minutes to pop on by and say hello to Lori.